As energy costs increase, the need to implement energy-efficient strategies and solutions becomes greater. Smart home products such as automated shades and blinds are paving the way for a more sustainable future by implementing features that help energy efficiency in homes, offices, restaurants, and other establishments around the world. In this article, we'll explain how the energy-conscious brands Intellishades works with do their part.
Why are window treatments important for energy efficiency?
Windows and doors allow the passage of heat more easily than walls or ceilings, which means they let indoor spaces get hotter in the summer and colder in the winter. Not regulating the flow of heat from a space means having to rely on air conditioning or heating, which can in turn hike up the electric bills. Having the right window treatments can help you control this, while also letting you control the natural light in a space. Many smart window treatments are automated and rely on long-lasting batteries to function, which means they provide all these benefits with no extra electricity costs.

Hunter Douglas
Many Hunter Douglas shading systems and window covering options are certified by the Attachments Energy Rating Council (AERC), which works in tandem with the US Department of Energy to guarantee high energy efficiency for consumers. Hunter Douglas cellular shades in particular are excellent for insulation and maintaining indoor spaces cool in warm climates.
Hunter Douglas' top-down/bottom-up designs also allow for maintaining insulation while simultaneously giving you natural light control. This means you won't have to choose between keeping your home cool or letting in natural light.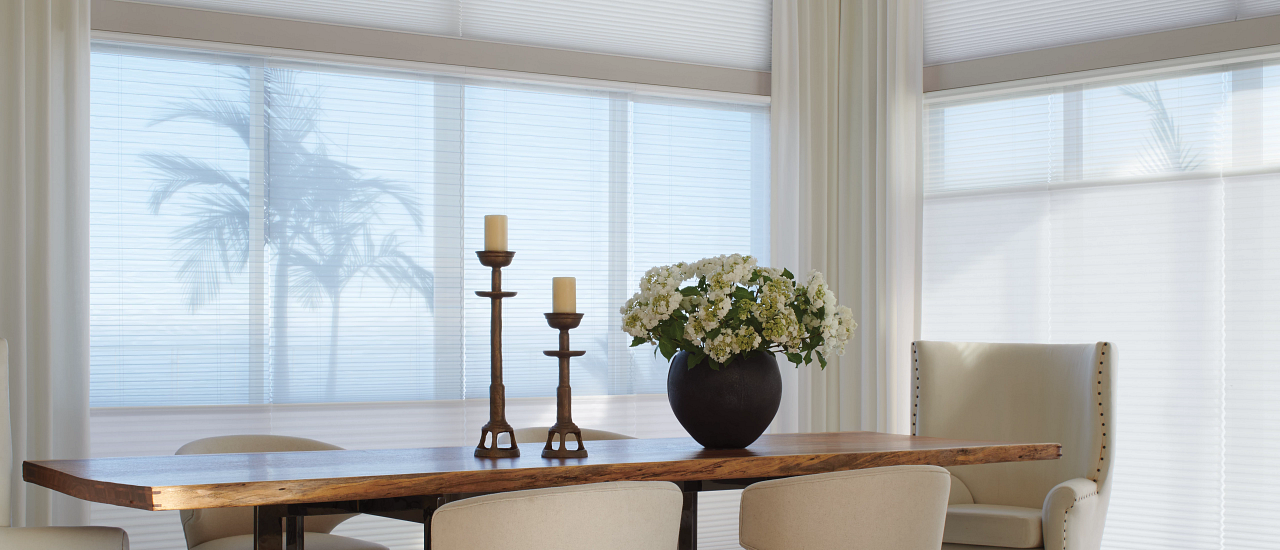 Lutron
Lutron's commitment to energy efficiency isn't just tied to their excellent lighting solutions. Lutron shading systems run on batteries and can go 3 to 5 years without needing these replaced. They're also available in a variety of styles, including insulating honeycomb. Lutron products include helpful features such as solar-adaptive shading software that adjusts Lutron shades according to the time of day and the position of the sun, maximizing energy efficiency.

Insolroll
Insolroll's Building in Shades of Green initiative aims to improve sustainability and their Solar Screen Shades aid in energy efficiency in a similar way to cellular shades. The difference is that Insolroll's shades offer not just comfort and insulation, but protection from the sun's UV rays without obstructing the view.
In tropical climates such as Puerto Rico, it's imperative to keep spaces as cool as possible, especially in the hot summer months. These carefully crafted shading systems are designed to keep your home feeling fresh and comfortable, without sacrificing natural light or causing higher electricity bills. Intellishades offers the best window covering brands and products in Puerto Rico, and our experts are eager to help you however they can. Call us at (787) 705-5999 for orientation or visit https://intellishades.com/ for more information on our products and services.